If you heard about SketchPad before this year's list was published, there's a good chance you heard some variation of "they're like a Jewish WeWork." In 2018, the Jewish Telegraph Agency even published a profile on SketchPad titled "", drawing on shared features such as bright and airy workspace, trendy decor, compost bins, and gender-neutral bathrooms.
Certainly SketchPad does have those things, and we're proud that our amenities rival those of the big coworking companies. But those of us within the SketchPad community know that even shared workspace is only a surface-level similarity, because while workspace is the core offering of many large coworking companies, sharing workspace is not why SketchPad has grown into productive, collaborative, and joyful community for Jewish professionals it is today.
Instead, we owe that to our . SketchPad's shared values, formed by and for members and grounded in Jewish wisdom, ensure every aspect of SketchPad's operation supports our mission: to empower Jewish nonprofit organizations and professionals to maximize the impact of their work with community, resources, opportunities and support for success.
The five SketchPad values are:
A belief in the power of community building, relationships, the exchange of ideas, and radical hospitality;
Dedication to a variety of types of learning;
Supporting and incubating bold, emerging, innovative ideas that will make a difference in the world;
Nurturing a joyful, supportive, collaborative, and productive work environment; and
Committing to living out our Jewish social justice values and a belief that we have a responsibility to make our society more.
Visit SketchPad and it won't take long to see how these values inform everything that happens here, from the layout of our space, to the content of our programming, to the way our members and staff interact with one another, visitors, and newcomers to the community.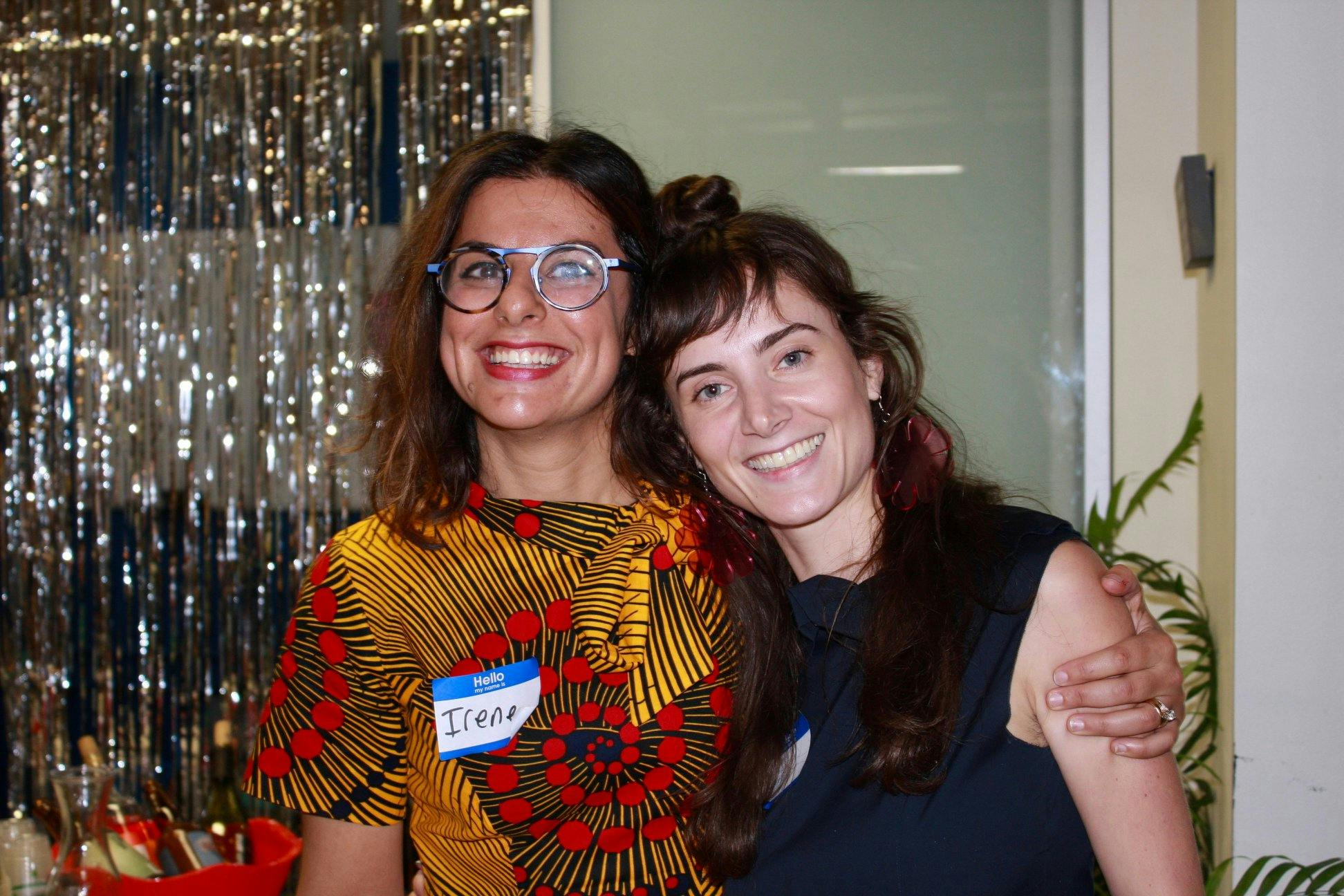 For instance, from the moment you walk in you'll find staff and members practicing hachnasat orchim, or radical hospitality. Everyone, regardless of background or purpose of visit, is met with a warm greeting, plus typically, a tour, or at least a cup of great coffee. Members and staff make an effort to introduce themselves to newcomers, ask about their work, and if an event is happening, encourage them to join. It's common for members to introduce newcomers to other members working on related projects or in relevant fields as well, with the hope to facilitate a helpful connection. As a result, virtually everyone who spends time at SketchPad feels comfortable, welcome, and encouraged to become an active collaborator.
What else will you find? You might notice, for example, a pair of gender-neutral penguin statues up front, which signal to all visitors that SketchPad is a space where all gender identities are respected. (Why penguins? Why not!). Maybe you'll see a sign promoting DefaultVeg, SketchPad's newest sustainability initiative that promotes animal welfare and reduces our carbon footprint by defaulting to vegetarian catering and snacks. Maybe you'll notice that the entire space is ADA accessible.
I encourage all visitors to take a look at the large wall calendar near reception. SketchPad boasts a full calendar of professional development and Jewish learning events which are guided by the shared values, too. Our programming is organized by our members-lead communities that make sure our events are reflective of SketchPad's values in the variety of subjects and learning styles offered, and cater to meet specific needs and interests of members.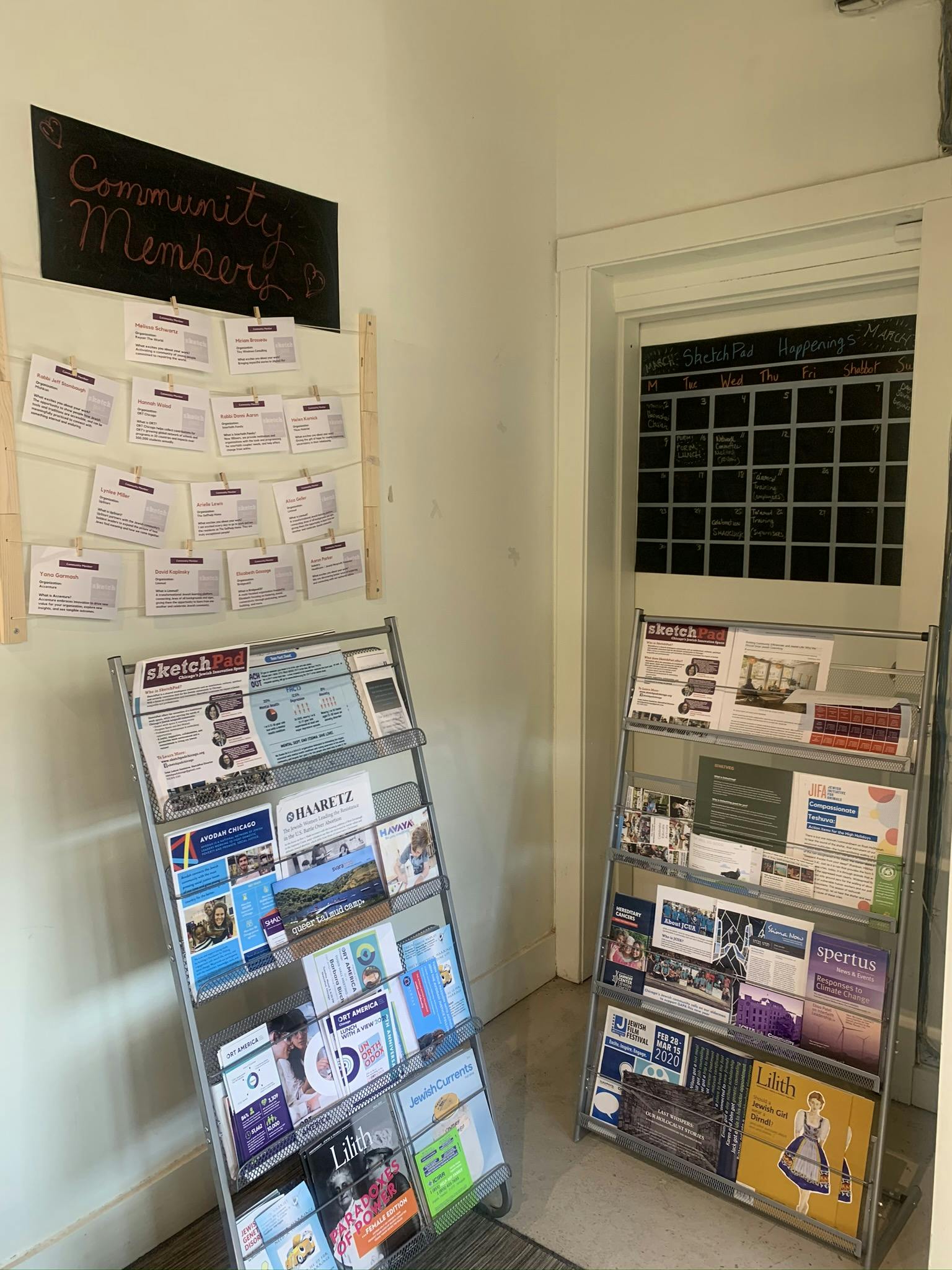 For example, SketchPad's Jewish Spirit committee organizes events that provide members the opportunity to integrate the celebration Jewish holidays, festivals, and traditions into their secular work lives. This takes all kinds of forms, from a weekly group text study, to a festive Purim megillah reading and meal, to our recent DIY Tu B'Shvat smoothie social and clothes swap. (Leftovers were donated to a local textile recycling company.) The Network Committee meanwhile ensures members have ample organized networking opportunities, access to quality instructors and lecturers, and organized opportunities to both teach and learn professional skills from other members. Examples include the recent Data, Metrics, and Evaluation SkillShare led by SketchPad member Alex Jakubowski, or the upcoming expert-lead Introduction To Grant Writing seminar.
Not all of the ways our shared values influence SketchPad are observable to visitors. Often SketchPad values have an invisible influence in back-end decision-making. As a grassroots, member-driven organization, we make sure our members are at the center of what happens at SketchPad, which is why we invite all of our members to join members-lead committees. These include the above-mentioned Jewish Spirit and Network Committees, as well as, for example, a Green/Space Committee, which oversees workplace culture, our physical space, and sustainability practices.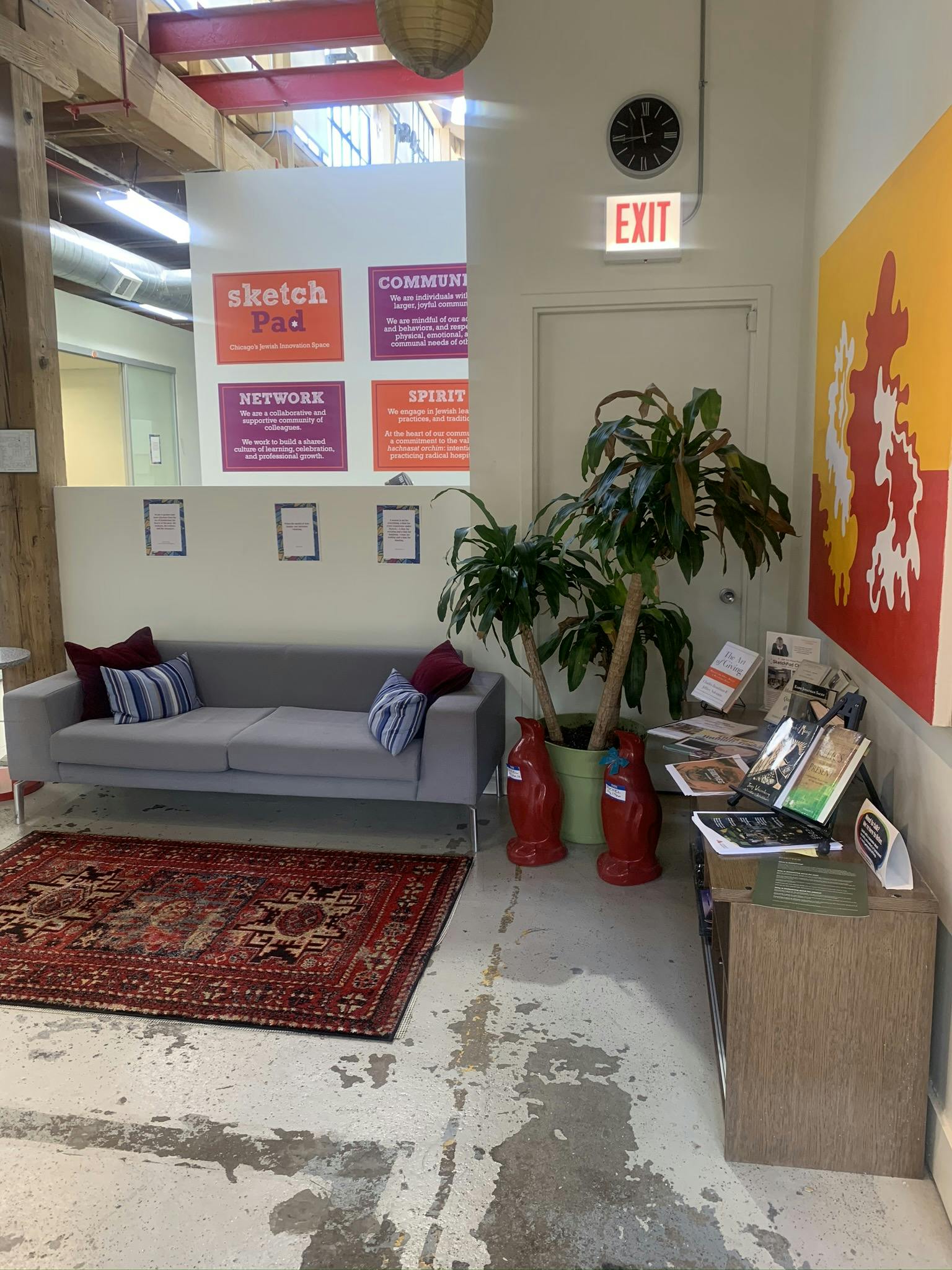 Perhaps the most dynamic way SketchPad values have shaped our community is how they set the stage for easy, open collaboration among members. As one member explains,
"Sketchpad enables me to be the most productive worker I can be. When I feel stuck, instead of trying to email or call or message coworkers around the country, I often peek my head up from my computer and find a colleague with an answer in close proximity. It is often so much more efficient to ask quick questions in person. It's also so gratifying to be a person who can offer advice, solutions, and moral support to my coworkers at SketchPad. This back and forth, give and take, is what makes SketchPad feel like a warm community and a meaningful location from which I can accomplish my work."
SketchPad is a modern office space with nice amenities, fun decor, and a multiplicity of organizations working under one roof, but that's not what defines us an organization. We are defined by our members and our shared values. That's the key: a community of people who support community building, learning, collaborating, innovation, joyfulness, and using the framework of Jewish wisdom to make the world a better place. This is how the SketchPad community of mission-driven Jewish nonprofit professionals together collectively succeeds, and enables one another do their best work.
Naomi Spungen is SketchPad's Operations Coordinator.